NCAT Regenerative Grazing Specialist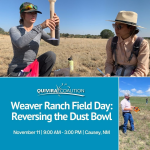 Join Amy Larsen of the
Quivira Coalition
for a
free workshop
in
Causey, NM
and learn about efforts to bring prairie life back to abandoned fields affected by the dust bowl, via innovative organic amendment applications such as compost, biochar and bale grazing. NMSU's Dr. Ghimire will discuss his research related to soil health and organic amendments, Amy Larsen will talk about Quivira's case studies of amendments on rangelands, and attendees will participate in hands-on field monitoring for rangeland soils.
Please register online here
:
https://quiviracoalition.org/events/weaver-ranch/
Direct questions to Amy Larsen at
amy@quiviracoalition.org
.