NCAT Regenerative Grazing Specialist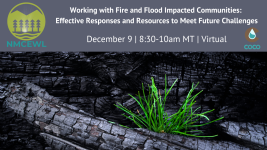 Want to learn how to help your community bounce forward from catastrophe?
Join in this webinar on December 9, 2022, from 8:30 - 10 AM mountain time
. The New Mexico Coalition to Enhance Working Lands is partnering with Coalitions and Collaboratives to answer questions about how non-profits and community organizations can help fire- and flood-affected communities rebound and prepare for future events. The resources shared will be especially helpful to people in New Mexico and Colorado, but the webinar will undoubtedly be widely useful.
To register for this free webinar, go to
quiviracoalition.org/events/fire-flood/