A friend at NPRC suggested I share this here. Hope you all find it helpful!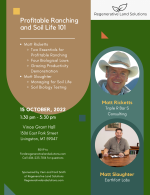 Join us for a Profitable Ranching and Soil Life 101 seminar with Matt Ricketts and Matt Slaughter. Matt Ricketts will discuss The 2 Essentials to Profitable Ranching. In this presentation Matt will focus on:
4 biological laws: drought, weed resistance, keys to profitability, and sustainability.
Plant identification with a grazing-land productivity demonstration (What are the plants telling you?)
Animal health and grazing-land nutrition (Are your animals fitting your forage quality? What plants provide what nutrients? Are the weeds you're killing really weeds?)
Come prepared to answer these 3 important questions: Is your land healthy? If not, can you improve it? If you can improve it, how do you do it and what will it cost?
Matt Slaughter will cover Soil Biology 101. He will discuss:
Key principles of soil life
How to unlock the benefits of healthy soil
How to test and manage for soil life


Bios:

Matt Ricketts: Matt Ricketts founded Triple R Bar S in 2017 with the goal to provide landowners with the best resources for all their land management needs and goals. He is a graduate of the University of Montana School of Forestry in range and forest management, with minors in wildlife and watershed management, and soils. His work experience spans 40 plus years working as a land management and ranching consultant, Montana state forester (USDA-NRCS), ranch planner/forester and range management specialist (USDA-NRCS). His experience includes completion of hundreds of resource inventories and management plans on over one million acres of forest and rangeland throughout Montana and the Pacific Northwest. Assisting both individuals and groups to reach their land management and business goals, the planning has resulted in healthy and productive forests, ranges, pastures, hay land, and wildlife. He has assisted landowners in the application of these plans resulting in profitable and sustainable ranching operations. He has authored a number of professional and published technical papers/studies in forestry, grazing and weed management, livestock/range nutrition, wildlife and wild horse management, and riparian restoration. He has made hundreds of presentations across Montana and the country, along with conducting numerous forestry and range/ranch management seminars.
Matt Slaughter: Matthew Slaughter is the founder, president and laboratory director of Earthfort Labs. He is primarily focused on customer support through consultation and education, but he is also responsible for product research and development. As the creator of Earthfort's products, (Soil ReVive, and Soil ProVide) he is constantly striving to help customers understand and use the products to the greatest advantage of the end-users.